Fried-Food-Friendly US Presidents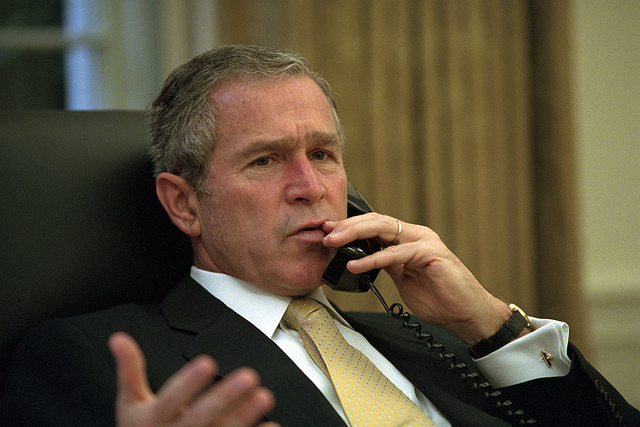 Who were the most fried-food-friendly U.S. Presidents?
If your very first thoughts about this intriguing question include Texas and the Bush family, then we know all there is to know about you. You're definitely not a fried-food-newbie, and yes, you've already walked deep into the prejudice zone.
SOURCE: http://www.foodandwine.com/slideshows/presidential-food-obsessions
Republican Fried-Foodies
So, you know how the State Fair of Texas can influence someone's nutritional habits and choices. You also associate fried food with the Republicans by default. For most of the things mentioned here, you're right. Yet, there are quite a few surprises, which will make you look at your favorite U.S. Presidents with a different pair of eyes. Here's why.
It would be an unimaginable and more importantly an inexcusable thing for both Bush Sr. and Bush Jr. to turn their backs on the Texas State Fairs tradition, wouldn't it? Bush, the father, just couldn't call it a day without a home-made-cheeseburger-pizza. On the other side, Bush the son, was a helpless fried pork rinds fan. According to the New York Times, he even influenced the very sales of pork-rind for more than 11% in 1989.
Democrat Fried-Foodies
We've chosen only a handful of the most prominent U.S. Presidents for this article, but this doesn't mean that you aren't going to get hungry when you read, who the fried-friendly oriented Democrats are. You thought that these Presidents were all candy-lovers. Oh fried-friendly-boy, you were so wrong. The following list is going to be a little bit longer than the previous one.
Did you think that Lyndon B. Johnson was going to follow blindly Kennedy's obsession with candies? Little did you probably know that he was the first U.S. President to introduce a cookout in the White House. In addition, it was a perfectly normal thing for him to order a hamburger for lunch for quite a few days in a row.
Here's our fried-food-jackpot. We all know that Bill Clinton is a stubborn vegan, don't we? Yet, you shouldn't neglect a fact that a vegan style wasn't his free choice. Two heart-related operations left him with no choice in this field. He had quite a reputation as being a huge McDonald's food fan. On the other side, when Bill Clinton orders a cheeseburger, then you know for sure that you're going to witness a greasy mountain made of tomato, lettuce, mayonnaise, pickles, and onions. Can you believe it? We just can't go any further, because we don't want to interfere with his wife's Presidential Campaign.
We shouldn't forget the "old-school" Presidents Roosevelt and Truman. Franklin D. Roosevelt just couldn't make it without his favorite grilled-cheese-sandwiches, scrambled eggs and hot dogs. Give 'Em Hell Harry thought that a love, which includes mamma's friend chickens, simply knows for no limits.
Indecision
So, what's the moral of our Fried-Force-One story? Is a delicious thing called a cheeseburger going to influence your vote in the upcoming Presidential Elections? We'll leave that for you to decide.