Stormtrooper Enjoys Max & Erma's Garbage Burger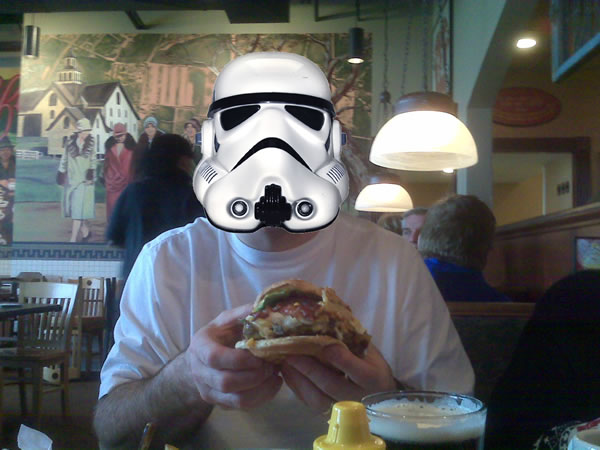 A local Stormtrooper, George Sachul, posed for a picture while enjoying a Garbage Burger from Max & Erma's restaurant.
"Yeah, my family and I come here at least once a week. We enjoy the food and the prices are reasonable."
When asked why George choose the Garbage Burger, he groaned,
"Lord Vader has been on a health kick ever since Obi-Wan kicked his ass. We get free food at work but it's all fruit, tofu and bean sprouts! I wanted something good for a change! So we've been coming here more often."
George continued,
"M & E's has great tortilla soup, buffalo chicken sandwiches, and the cheese sticks are amazing with that sauce. My whole family loves 'em!"
Editor's note: Shortly after completing this story we learned that Lord Vader crushed George's throat for his insolence. Our sympathies go out to George's family. All hail Lord Vader.