Hilarious Fake Guy Fieri Menu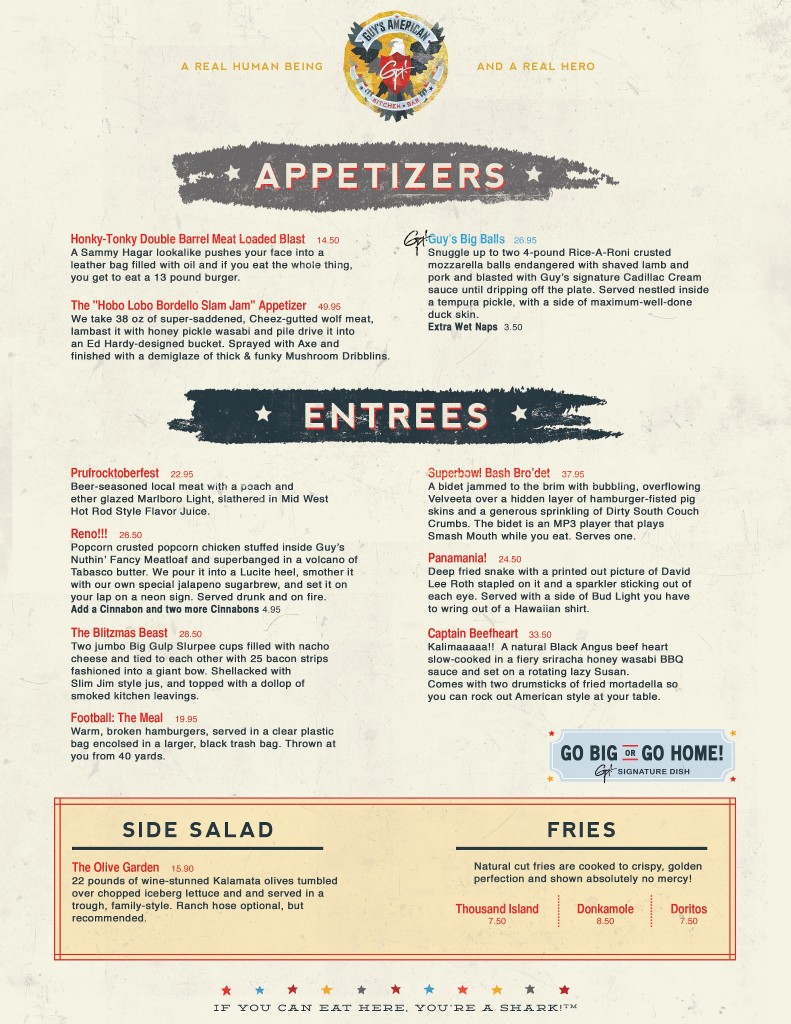 This hilarious fake Guy Fieri menu shows that you should always buy the domain name for your restaurant or business before someone else does
Guy Fieri – restaurateur  author, television personality and game show host – co-owns five restaurants in California and is best known for his television series on the Food Network.
One of his restaurants, Guy's American Kitchen and Bar in New York City, was parodied by Bryan Mytko (@bryanmytko). Guy purchased the domain name GuysAmerican.com but Bryan purchased the full domain name, GuysAmericanKitchenAndBar.com, in order to create a hilarious fake menu.
Some of our favorite menu items include
Appetizers
Guy's Big Balls
Snuggle up to two 4-pound Rice-A-Roni crusted mozzarella balls endangered with shaved lamb and pork and blasted with Guy's signature Cadillac Cream sauce until dripping off the plate…
Entrees
The Blitzmas Beast
Two jumbo Big Gulp Slurpee cups filled with nacho cheese and tied to each other with 25 bacon strips fashioned into a giant bow…
Reno!!!
Popcorn crusted popcorn chicken stuffed inside Guy's Nuthin' Fancy Meatloaf and superbanged in a volcano of Tabasco butter…
Mashable also has a great article on the fake Guy Fieri menu.
Related articles